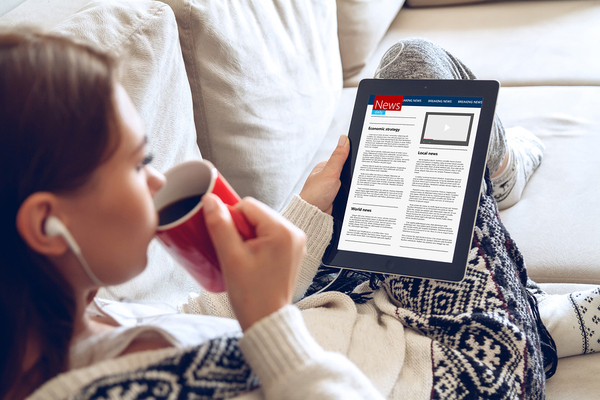 News is becoming easier to access for everyone.
As options for news expand, newspapers, radio and television have to shift their strategies to capture the attention of viewers. The dynamic has shifted from viewership coming to news sources, to those sources coming to the viewership, and there's a multitude of ways to bring your news to precisely the people who want it.
Social Media
While the dynamics of social media and its reach shift constantly, one thing that doesn't change is that social media offers a real-time audience actively looking for news and commentary.
Each social network has a different approach to news: For example, LinkedIn lends itself to local business news, while Instagram lends itself more to local interest pieces, such as dramatic local sports photos or documenting a town event in real time. Even media sites like SoundCloud and YouTube have highly useful social features.
Look at the social media channels that cater most closely to your needs, and that your readers are most likely to use, and see how you can implement them to draw interest.
Local SEO And Digital Advertising
One of the biggest advantages modern local media has with Google is that it offers an intensely focused audience for local companies.
Any news outlet, regardless of format, should have a local SEO strategy that makes it easy for both members of the community and Google's algorithms to find and rank their reporting. But this can go well beyond just good SEO techniques.
For example, a mix of local SEO and digital advertising can drive audiences to, for example, a newspaper's profile of the local real estate market, or a radio interview with the CEO of a local business.
Push Notifications
Push notifications are a key part of any media organization's marketing plan.
Push notifications are flexible tools that let your audience sort themselves into categories; if they most want to know about local sports, local business deals, or any other topic, they can sign up for notifications that will let them know a new story has arrived.
Browser-based notifications are particularly effective because they're opt-in, are tied to browsers instead of specific platforms, and can be easily installed and configured on every page of your site. Your most dedicated audiences can get what they most want from your team with ease.
Your audience can know exactly where to tune in when you use the right marketing tools.
Repurposing Content
As time goes on, every media organization will be in the TV, radio, and print business.
We're already seeing video clips and short podcasts accompany news and commentary articles, and articles are being turned into audio content for listeners on the go.
For evergreen content, such as profiles of local luminaries, commentary on local politics, and other topics that may be of broad interest, or are being looked at from multiple angles, repurposing it in various forms makes your content more accessible and more visible.
Newsletters
Finally, the daily and weekly email newsletter has a surprising degree of power, even now.
Not everyone is a news junkie, but they still want to be informed, and a newsletter offering quick summaries and links to the day's headlines can be a powerful tool to draw interested, but busy, readers.
Need to know more about marketing your media business? Sign up for a live demo of Pushnami!