First impressions can make all the difference for your brand. When a user visits your website for the first time, what will they come away remembering? There are a number of options your company can choose from when it comes to push notification opt-ins, ranging from what pages to place it on to messaging choices to entice users to opt in.
To improve the conversion rate for push notification opt-ins, a strategy needs to come into play. With only one opportunity to ask users to subscribe to your notifications, it would be a shame to waste it. Consider the soft ask as a possible less heavy-handed approach to engaging potential new subscribers. A soft ask approach helps your business increase subscribers for push notifications. Explore the differences between a soft ask and a hard ask to incorporate the best opt-in strategy for your business.
What's a Hard Ask Opt-In?
A hard ask opt-in is a pop-up that asks users to subscribe to push notifications immediately after they land on your website. This type of opt-in doesn't use any prior behavior to prompt the pop-up. The hard ask will display simple, straightforward language such as, "[Company name] would like to send you push notifications." At this point, users either "allow" or "block" push notifications from the site. They also have the option to close the pop-up which will result in a new pop-up prompt during their next visit. The worst-case scenario is if they block notifications. Once they block the notifications, they will never receive the pop-up again unless they manually unblock it.
If a hard ask is your current strategy and your opt-in rate is lower than you'd like, don't worry, we have an alternative solution to try.
What's a Soft Ask Opt-In?
A soft ask opt-in is when a website sends a pop-up encouraging website visitors to subscribe to push notifications with a more personalized approach. The pop-up isn't in your face and usually includes reasoning as to why users should subscribe in the first place. A soft ask is usually an attention-getting message that feels unobtrusive. The message is often displayed at the top of your website with a short message next to it. Users have the choice to subscribe or ignore it.
A soft ask can also occur after a user visits a certain page, visits a selected number of pages, or after the end of a process (just like a hard ask). For example, a soft ask might occur after a user has completed their purchase on the thank you page. The website may prompt them to "Allow notifications about your order." With this example, the user knows exactly what type of notifications they will receive. Providing users with reasoning is a great way to encourage them to subscribe to your notifications.
Creating an opt-in experience your customers respond to will help increase your subscriber list, build up customer loyalty, and help you achieve more conversion from push notifications.
Soft Ask with Reasoning
One of the first ways you can implement a soft ask push notification opt-in is by including a reason for the notifications. If your marketing strategy includes sending subscriber discounts, let them know! In this case, you can send a notification soft ask that says, "Want to receive discounts for your favorite products occasionally? Subscribe to our push notifications." This example gives users an actual reason to subscribe. They know exactly what kind of notifications they will receive from the start.
You can also implement a soft ask based on how the user is browsing your website. If they are reading your blogs, send them a relevant soft ask that suggests, "Stay up-to-date on our latest tech blogs when you subscribe to push notifications." If the user sees value in the website's blogs and does actually want to stay up to date, they will subscribe.
Soft Ask Based on Behavior
Take advantage of knowing how users engage with your website and brand. A process-triggered soft ask is a powerful way to encourage users already interested in your brand to take the next step and subscribe to your notifications because they have a reason and their behavior demonstrates their interest. For example, if a user submits a job application for your company, try a soft ask that states, "Subscribe to push notifications to stay updated about your application." Anyone who has ever applied for a job would love to know where their application stands in the review process.
This approach also works for any other processes one would complete on your website such as creating an account or even booking travel itinerary. When crafting the soft ask, make sure to include a clear reason why the user should subscribe.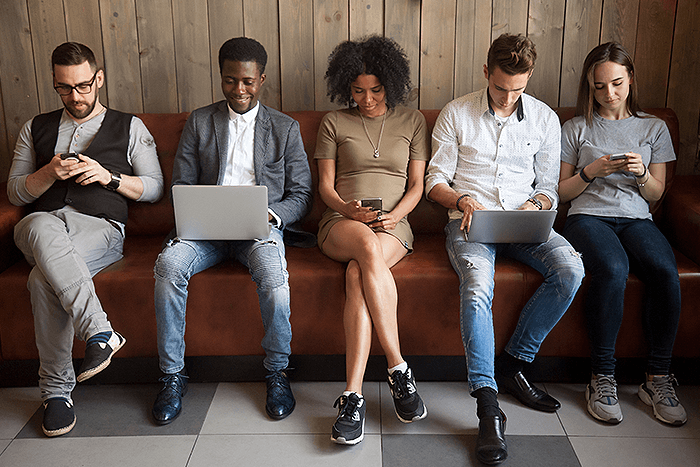 Soft Ask With Offers
Another way you can use a soft ask to grow your subscriber list is by offering users the opportunity to opt-in only after they have visited a certain page or a certain number of pages. This allows you to grab them when they reach a certain point in the sales funnel.
For example, prompt users to subscribe after they have clicked through multiple pages of your products. This means the user shows interest in the product and might actually want to learn more about it to help them decide if they want to purchase it. To help guide them down the sales funnel, create a soft ask that motivates them, such as, "Get 20% off your first order when you sign up for push notifications." This will encourage the user to subscribe as well as make their first purchase.
A/B Test a Soft Ask
Now that you have a few ideas for how to soft ask a website visitor to opt-in, it's time to test them. Testing different approaches will help you get the timing right for optimal results. Create A/B tests that change up the design, verbiage, and what prompts the opt-in to pop-up. Keep track of which test brings you the most subscribers. Once you learn what your visitors respond to, you can create several variations of the same strategy to continue to grow your subscribers.
Keep Subscribers Happy with Relevant Push Notifications
Not only should you focus on creating a soft ask opt-in that delivers results, but it's also worth creating push notifications your users will enjoy. There's no point in doing all the hard work to build your subscriber list if you aren't going to maintain it.
The best way to keep your subscribers happy is by giving them the push notifications they opted-in for. For example, if a subscriber opted-in because they wanted to stay updated on your blog, make sure you send them notifications about your blog. The quickest way to get a new subscriber to unsubscribe is by sending them content they don't want.
Pushnami makes creating personalized push notifications easy. With the power to segment subscribers and use machine learning, you can ensure that each subscriber is receiving the most relevant content. ML makes it easy to send automated messages to subscribers based on their website activity, location, and interests. The ML-informed platform also self-schedules and optimizes campaigns to deliver the best results possible. The more personalized your push messages, the happier your subscribers will be.
Utilizing browser push notifications in your business can help you gain loyal customers, retain customers, and drive conversions. It's one of the easiest ways to send your customers a quick message, personalized content, updates, and promotions. They benefit both companies and their customers.
Give your visitors a better website experience with customizable soft ask opt-in options. Our Push Success Team at Pushnami will help you create different ways to soft ask your customers to become new subscribers. Sign up for a free trial today to test it yourself.