With over 2 billion users, Facebook is still the leading social media platform. For businesses looking to reach more potential customers, marketing on Facebook seems like a no-brainer. While it's true that a strong Facebook presence is a good idea for any company, there may be better avenues to make conversions, depending on your industry. In this post, we'll explore which types of businesses can benefit the most from marketing on the platform and how to use it most effectively.
Is Your Audience B2B or B2C?
Facebook is a platform that encourages spontaneity and personal sharing. This makes it ideal for marketing directly to consumers. You can gain powerful insights into the trends of your target market through what they "like" and share on Facebook, and the targeting power of its ad engine is one of the most sophisticated of all social media platforms.
That said, if your business primarily markets to other businesses, there may be better platforms out there, like LinkedIn. The hyper-personal interaction Facebook encourages does not always lend itself to professionalism. While you can message and interact with other businesses on the platform, your comments will come through just like a consumer's does and may get lost in the crowd.
What Type of Industry Are You In?
Virtually every type of business can benefit from a strong Facebook presence. Your social media footprint is often the first impression that potential customers have of your brand. From retail to breaking news sites to subscription services, Facebook serves as an important way to connect with customers and with other businesses. B2C organizations are especially suited for Facebook marketing. Even if your goal is to market to other businesses, a Facebook presence can be beneficial.
E-commerce businesses and those looking to appeal to the largest possible audience cannot ignore Facebook due to the sheer number of people using it. However, if you're in a more niche or specialized field, your efforts may be better suited for smaller sites that are specific to your industry. Though Facebook offers precise ad targeting tools, your target market may not be open to following industry-related ads on the platform. Instead, they'll look for those leads from more industry-specific sources.
If you're going for mass appeal, Facebook is the way forward. Otherwise, look to more niche spaces for an effective way to engage your target market.
What's Your Target Demographic?
According to the Pew Research Center, Facebook and YouTube dominate the social media landscape. Over two-thirds of US adults say that they use Facebook, and a majority of those users visit the site multiple times a day. For younger demographics, however, the tide may be shifting more toward apps like Snapchat and Instagram. It's worth noting that Instagram is owned by Facebook, and businesses can now link their accounts across the platforms.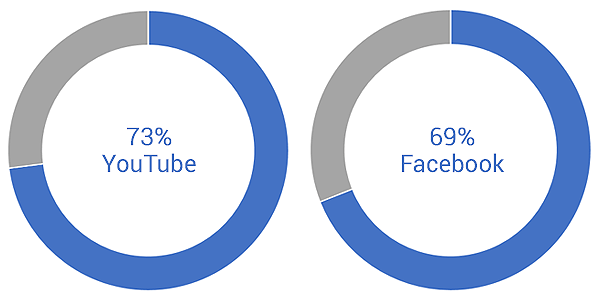 % share of U.S. adults who say they use certain online platforms or apps
When it comes to picking the right social media platform to market on, you can't just lump all of the twenty-somethings together. Those aged 18 to 24 are much more likely to be on Snapchat and Instagram than those aged 25 to 29. Facebook, however, enjoys a broad appeal throughout the age groups, although it may be seen as less trendy to the youngest ones. Though it's not a traditional social media site, YouTube is the only online platform that outperforms Facebook.
Within Facebook itself, there are a wide variety of targeting strategies available to businesses. You can specifically target groups such as young professionals, working moms, urban consumers, or other demographics specifically interested in your field with as wide of a net as you'd like to cast. Since virtually every demographic uses Facebook in some capacity, it serves as a valuable platform for reaching potential customers, no matter who they are or where they come from.
Again, we find that if you're trying to reach the most prospective customers that you can, Facebook is still your best option. For businesses that are more video-oriented, YouTube is an obvious marketing channel to explore. Maintaining a presence across a variety of social media channels allows you to cover all your bases and ensure that your message is getting out.
Keeping Customers Engaged
Not only is Facebook a powerful tool for finding new customers, but it's also useful to keeping customers coming back. After all, returning customers spend nearly double the amount that new ones do, so they're worth investing in. You can keep customers posted about new product releases, or you can offer them exclusive deals. When you engage with previous customers regularly, you'll be sure to stay on their radar for the next time they're ready to convert.
Web push notifications are a marketing channel that have been demonstrated to boost online conversions by 30%. Interacting with people on Facebook (comments and private messages, for example) pop up as notifications on a user's device that engage them and keep your brand at the front of their mind. By combining various promotional approaches such as these, you earn the valuable repeat impressions which are fundamental to building brand loyalty.
The Power of Facebook Messenger
Facebook Messenger is one of the most popular ways for people to say connected with each other and is available even to those who do not have a Facebook account. Messages on the platform can pop up across devices, wherever Facebook is found. Since messages sent on Messenger also show up in a user's Facebook account, the chat service has an extremely broad reach and multiple avenues to notify users.
While web push notifications are one of the hottest upcoming marketing tools out there, marketers have previously been unable to reach iOS users through the channel. Pushnami SocialPush is the first real solution, allowing push notifications to be delivered via Facebook Messenger to iPhone users. These notification messages through Messenger also have opt-in capabilities across all major browsers and devices. Using targeted, AI-powered push notifications is one of the best ways to stay engaged with your customer base.
No matter who your ideal customer base is, Facebook serves as an invaluable platform to reach them. Take the time to build your social media presence and stay connected with your customers and prospects via SocialPush — your brand will be sure to see an increase in conversions.