The current average cart abandonment rate among consumers is 69.57%. That means ecommerce websites that leave this issue unaddressed are leaving a serious amount of money on the table. The problem is that shoppers will create wish lists, browse ecommerce websites, and add items to their shopping cart—without making a purchase!
Before we dive into tips for resolving cart abandonment, it's important to understand why cart abandonment happens in the first place.
To start, know that cart abandonment has nothing to do with the quality of products or the sale. Cart abandonment is usually caused by other factors that influence decision making.
For example, if a customer has a bad user experience on your website like slow loading times or a hard to navigate page, they may get frustrated and abandon their cart. Unexpected shipping costs are the top reason for cart abandonment in the United States.
Customers also tend to abandon their carts when faced with a command to create an account in order to complete the purchase. Other reasons may include concerns about payment security, a lack of discounts, expensive shipping, or too few payment or shipping options.
Any of the above concerns can cause a customer to abandon their cart at the last minute. While it's a smart idea to work out as many kinks as possible, oftentimes, customers just need an extra nudge to complete their sale. Abandoned cart push notifications are an easy and effective way to close more sales.
Ecommerce brands that don't use reminders to finalize a purchase face a loss of customers, sales, revenue, and brand loyalty. Nobody wants this to happen to their business—discover how abandoned cart push notifications can move sales in the right direction.
In the below chart from Statista, you'll see that the leading reason buyers abandoned their carts are unexpected shipping costs, but there are a variety of different reasons why people give up at the last step of the purchasing process. We'll explore some of these later on in this article!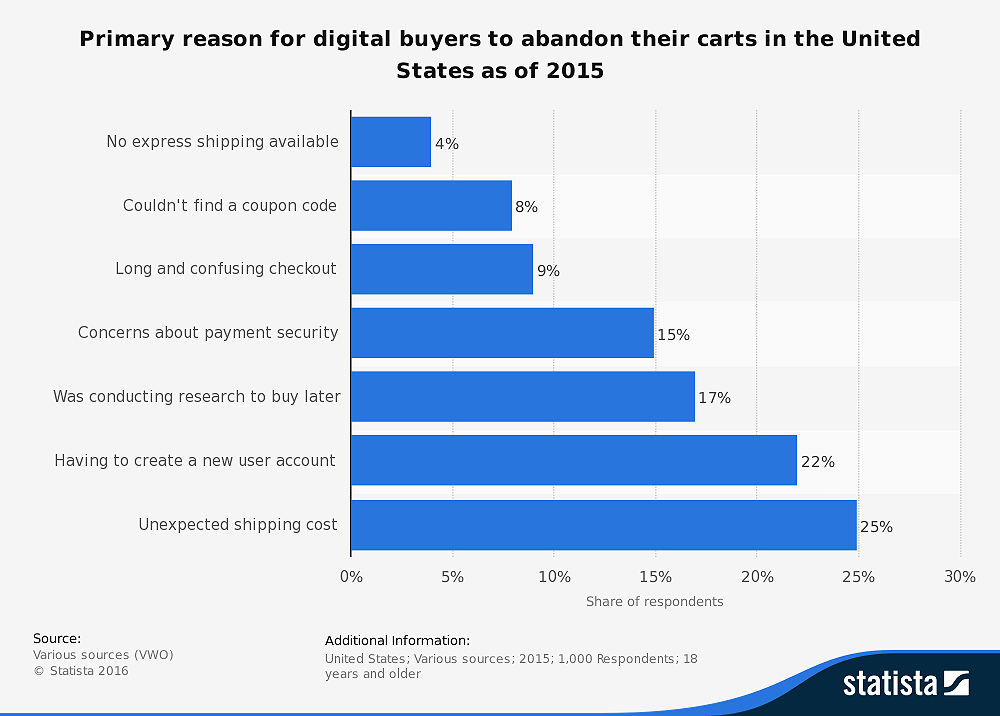 Why Use Abandoned Cart Push Notifications?
Although Facebook ads and emails can remind customers about their abandoned carts, you have to wait for the customer to view the ad, open the ad, and consume the content. On the other hand, subscribers receive abandoned cart push notifications on their mobile device or on their desktop as a banner notification. Subscribers read the ad on-the-go and, when it serves its purpose, make an immediate purchase.
Push notifications have a 50% higher open rate than emails so when it comes to retargeting customers with an abandoned cart, push notifications also have a much higher reach. In addition, push notifications have a 41% opt-in rate compared to emails that have a 1.95% opt-in rate. These statistics alone prove why push notifications provide more value than emails.
Not only do push notifications win in terms of opt-in and open rates, but they also have a higher click-through rate with an average of 40%, while emails hover at 23%.
Push notifications also have a higher engagement rate. With a proper push strategy in place, notifications can result in an engagement rate as high as 80%. Results like these require a smart push strategy to maximize their benefit. Here are a few key ways to use push notifications to combat abandoned carts.
Personalized Abandoned Cart Push Notifications
It's more important than ever to deliver a personalized buying experience to customers. 90% of consumers report they find personalization appealing while 80% say they would do business with a company who offered them a personalized marketing experience. Personalization is key for marketing today.
Fortunately, Pushnami's push notifications make customization easy. At minimum, you should be addressing users by first name and acknowledging their location, but there are many ways push can show your customers you care.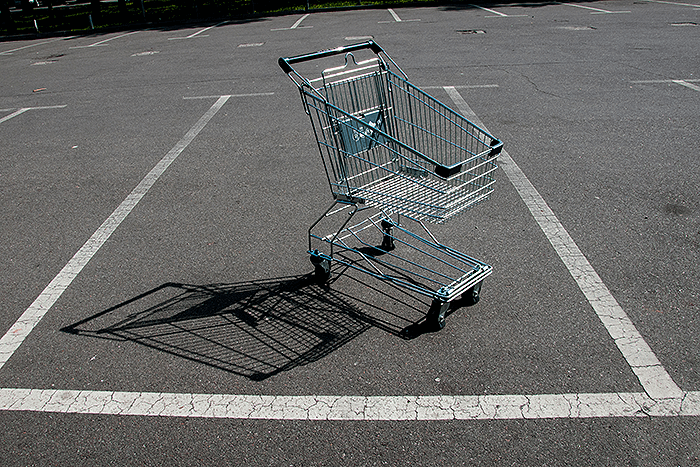 One of the benefits of using Pushnami's push software is that users have the ability to personalize push notifications to the extreme. The data-driven AI software collects subscriber data at every point of interaction, giving you access to valuable insights that will inform how to best personalize their user experience moving forward. This data should inspire personalized push notifications that go beyond names and locations. Using this feature is as simple as clicking "Use Pushnomics for this Campaign" to automate a personalized push campaign for your brand. Pushnomics can boost performance by over 30% compared to traditional campaigns.
For example, an online home goods store could send a push notification to a customer who abandoned their cart with a lamp. The push says, "Still looking for home lighting, Susan? Don't forget about the lamp you left in your cart! Press check-out now!"
Not only does this push use her name, but it also reminds Susan about her interest in their home lighting goods and plugs in the product. This push may reignite her interest and help her finalize her order. While all push notifications don't need to be this personal, it doesn't hurt to go the extra mile to make customers feel special.
Offer a Discount or Free Shipping
Everybody loves a discount. When a customer abandons their cart, send them a discount or an offer for free shipping to persuade them to finish their order. Oftentimes, consumers abandon their cart because they have insufficient funds to complete their purchase. With a discount code or offer for free shipping, they are more likely to complete their order. For even better results, give the offer an expiration date to create a sense of urgency. This will help the customer make moves quickly.
Hook customers with an offer they can't resist. An abandoned cart for online flowers might say, "Don't let your flowers wilt. Use promo code MYCART to save 15% off your order today only."
This example reminds the subscriber of their abandoned cart while offering a limited-time discount to encourage them to act fast.
Cross-Sell or Upsell
Another way to reduce the number of abandoned carts is by sending an abandoned cart push notification with the intent of upselling or cross-selling other products.
For example, if a subscriber has a scarf in their cart, send them a push notification for a matching pair of gloves. "We saw that you liked this scarf. These gloves would complete the look!"
Cross-selling helps remind customers about their initial purchase intent. It also helps spark an interest in similar products. This is a way to personalize push notifications while also promoting your other wares. When it works, the customer not only returns to their abandoned cart, they make an additional purchase thanks to the cross-sell.
Push notifications are also a perfect way to upsell subscribers. A company that sells razors might have a subscriber with an abandoned cart. Sending a push to the subscriber that states, "Still need a razor? Save money and buy a three-pack instead." This push reminds the customer of the product they were initially interested in while also offering them savings.
Use Emotions in Abandoned Cart Push Notifications
Online shopping doesn't provide the same experience as in-store shopping with a friend. How many times has a friend nudged you to stop debating and just get the item you're looking at? Abandoned cart push notifications can invoke the same kind of friendly reassurance, but online it's coming from a push notification.
Reassure customers to make the purchase by telling them what they want to hear. Online clothing companies can send a push that says, "You'll look amazing in this little black dress. Buy it now before it runs out of stock."
This will remind the customer why they showed interested in the product in the first place. A push notification that uses emotions will give customers that extra nudge from a friend they need to make a purchase.
Abandoned cart push notifications can also demonstrate to customers that your brand cares about them. A push notification that makes customers feel special will boost brand loyalty as well as sales retention. If a customer leaves a pair of glasses in their cart, send a push that says, "We're holding onto these glasses you liked. Grab them before they go out of stock with 10% off." This message shows the company cares because they are holding the item and also creates a sense of urgency because they are almost out of stock. The discount code is the cherry on top to persuade the customer to check out.
See Fewer Abandoned Carts for Your Online Business
If you're tired of seeing customers abandon their carts, it's time to get them back on track with abandoned cart push notifications. Pushnami makes creating your first campaign easy. With a designated Push Success Team by your side, you'll be set up for success. We can help you optimize and automate your push campaigns to turn abandoned carts into sales, and you'll gain some long-term loyal customers along the way. Sign up for a free trial to increase your sale conversions today.