Pushnami, the leading AI powered cross-channel messaging platform, has reached its key benchmark nearly six months ahead of schedule. Thanks to a combination of cutting-edge technology and innovative customer approaches to browser-based push notifications, Pushnami has sent its 10 billionth push notification this July—a goal the company had originally been on track to achieve at the end of 2018. This achievement reflects the enormous growth and power of push notifications where customers ask to be notified, instead of signed up with an app.
Making the achievement even more impressive, as of April of this year the total number of notifications pushed was at 5.5 billion, leading it to almost doubling its volume in just two months' time. "It is amazing to have hit our 2018 goal of 10 billion notifications by the beginning of July," said Emerson Smith, CEO of Pushnami, "I want to thank our fantastic team and innovative clients for helping us reach this milestone."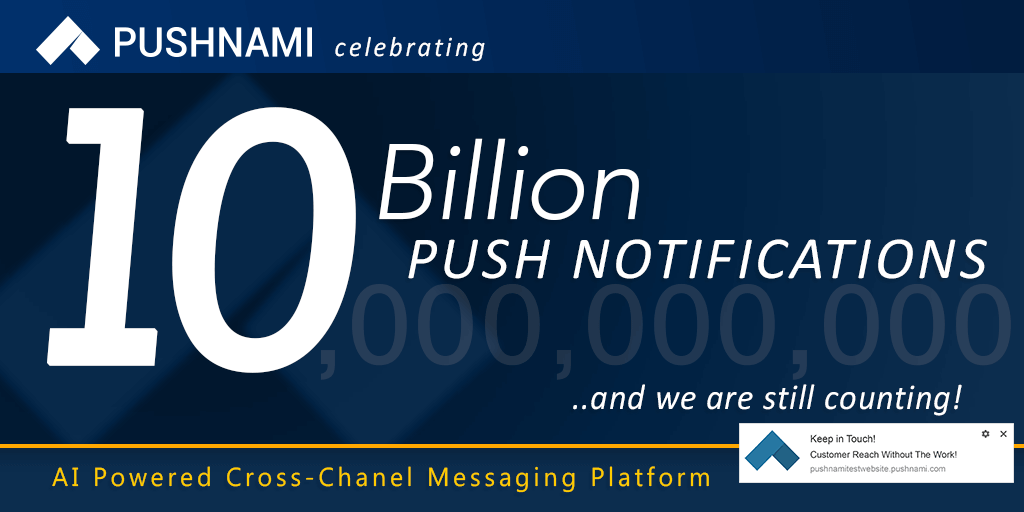 This milestone speaks to the increasing popularity of push notifications, which academics estimate to arrive at a rate of 50 to 100 per phone every day. As businesses and customers have become more aware of the effective uses of push notifications and the power of allowing customers to opt into receiving notifications, Pushnami has seen explosive growth with its simple-to-use platform.
Furthermore, Pushnami's platform is permission based, ensuring that users who opt-in to the system truly want to receive notifications. The platform is also web based, instead of app based, allowing customers more options around where and how they get notifications. Expect 10 billion to be just the beginning, as Pushnami and its customers find new ways to expand the power of push notifications and other marketing channels.
About Pushnami
Pushnami is the top AI powered cross-channel messaging platform, specializing in opt-in browser-based push notifications. Pushing over 10 billion notifications and counting, Pushnami is supported across all major browsers, and it makes installing push notification capability as simple as copying and pasting five lines of code. To learn more about Pushnami and the power of browser-based push notifications, visit Pushnami.com/features.