Cookie cutter, one-size-fits-all marketing blasts are a thing of the past — consumers want content that speaks directly to their interests. The problem is, few businesses have the time or resources to personally craft each and every piece of marketing they put out. Fortunately, Artificial Intelligence offers us a solution: automatically personalized web push notifications that are populated based on a subscriber's interests and history on your site.
Why Personalized Marketing Matters
In the last decade, the ability for marketers to offer personalized advertising content has taken off, thanks to social media and machine learning. Your cell phone knows your interests better than some of your close friends might, and can deliver highly relevant content suggestions based on this knowledge. Many users have come to expect a level of personalization in all of the content they subscribe to. As a result, content that misses the mark is less tolerable than ever.
Data is the commodity that has become the driving force behind online marketing. For decades, consumers have sifted through advertisements that may or may not relate to them, but in today's world, an advertisement has to be truly irresistible in order to merit a click. Data-informed personalization saves you time and ensures you're delivering the most relevant content, because records of user engagement drive its creation. Web push notifications also offer a unique opportunity to reach subscribers instantly, in a front-and-center format. This is why as web pushes become more popular, it will become increasingly important to only use the highest quality, most personalized content possible.
Automation Ensures Consistency
Your users are expecting a consistent experience across all of the channels they encounter — that means your brand voice should be dependable whether it's found on social media, on your website, or with push notifications. Automated content creation does not mean your material loses its unique touch. Your push notifications are automatically populated and personalized according to available user information, and should then be tweaked to fit the lexicon of your brand identity. Together, this provides an on-brand messaging experience that is relevant, with little extra work on your part beyond checking the automated content for brand-consistency.
Email-Style Personalization is Not Enough
Email blasts that have been meticulously personalized and segmented are par for the course in a user's inbox. Consumers have gotten used to seeing their own names in a marketing subject line, and it does little to pique their attention. Similarly, personalizing your push notifications only with the names of your subscribers is not enough. You have to also cater the content itself toward their own unique needs.
The art of predicting what a user wants to see is a constantly developing process that includes advanced machine learning algorithms. The more a visitor spends time on your site or on social media channels, the more accurate and refined your content targeting models can be. Whether users spend a little or a lot of time on your site (hopefully a lot!), you should be tracking those engagements to inform every point of contact you deliver from your brand. With relatively little effort, this data collection and automated content creation takes place on your behalf thanks to AI machine learning. Pushnami's personalization engine constantly works to refine the efficacy of your pushes, so you don't have to.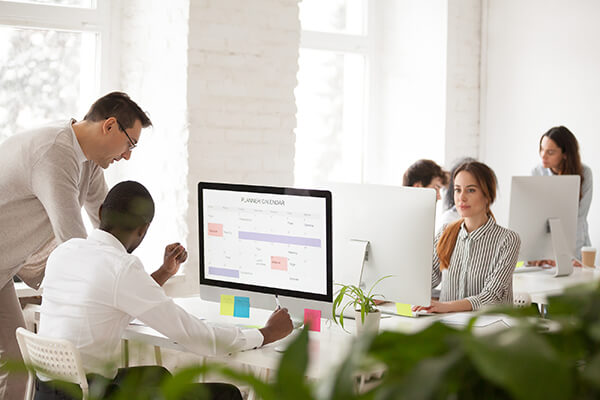 Content Sourcing Channels
You likely have a wealth of existing content like articles and social media posts that will resource an automated content creation campaign. AI-driven push notifications will build upon this existing collateral to free up your time, and API integration with other platforms makes connecting the dots between brand substance and promotional pushes a breeze. For example, a breaking news RSS feed from your site could translate automatically into personalized web push notifications, sent out to those who have indicated interests in the particular topic at hand.
The Importance of Timing
Web push notifications bring your message to the forefront of a user's experience, making timing especially important. Although emails can be sent in the dead of night to be sorted through in the morning, effective push notifications come when a user is willing and able to act on them. Pushnami's AI-powered platform has the ability to schedule pushes based on multiple factors including subscriber time zone, time lapsed after subscribing, or time after a certain action has been taken such as a purchase.
Dynamic Variables to the Rescue
As we mentioned earlier, inserting a visitor's name within your promotional material is nothing new, but dynamic variables can reach far beyond a simple name. You can insert product types, discount amounts, and user locations to craft messages that hit points of interest you know each subscriber individually cares about. This is a whole new level of personalization, automatically generated based on the needs of each customer.
Automated Drip Campaigns
Your promotional campaigns should encourage and reward receptivity. At every stage of the customer journey, your web push notifications can be used to point users in the right direction, based on the preferences they display. Automated drip campaigns built upon push notifications lay out a sequence of messages that are determined by user response. It's a choose-your-own adventure approach to marketing that ensures visitors are getting the right information at the right time.
Automated Content for the Future
While AI technology may not quite be at the point where it can believably generate your blog content (or is it?), web push notifications are a perfect candidate for automated content because pushes are short and to the point. They convey your information in a succinct and clear manner, encouraging users to act now. Take advantage of Pushnami's Automated Content Creation and you'll be sure to make a greater impact on prospective customers.