In a mobile-driven world with news constantly at consumer's fingertips, information quickly becomes outdated. There are only a few hours where a push notification stays relevant. This is why it's more important than ever to get the timing right.
With subscribers all around the world and 37 different time zones to accommodate, half of your audience might be asleep while the other half is leaving work. It doesn't make sense to push a notification at the same time for all subscribers if they live in different time zones.
Pushnami wants you to succeed from your global push campaigns which is why we provide the option for time zone scheduling for push notifications. This feature helps businesses reach the right audience at the right time around the world.
What is Time Zone Scheduling?
Time zone scheduling for push notifications is a unique feature of Pushnami's push notification software. It allows users to send notifications at a specific time to different time zones.
For example, if you wanted to send a push at noon around the world, Pushnami's software would segment subscribers into their own individual time zones. When creating the campaign, users have the option to send the push based on time zones.
The campaign will automatically create separate campaigns for different time zones. Each segment will receive the push at noon for their time zone. You won't have to worry about push notifications going unseen because it's sent at the wrong time again.
Check Subscriber's Time Zone
One of the benefits of using Pushnami is that our software automatically sorts your subscribers into their different time zones based on their IP addresses. As a result, you don't have to spend any time manually sorting through your subscriber list; it's already optimized.
With this information, users can discover how many time zones their push campaigns send to. The data is also helpful for deciding if a push campaign is relevant to that area or not.
For example, a push campaign about flight deals around the United States might not be relevant to someone who lives in Asia. When users create their campaigns, they have the option to exclude certain time zones from the campaign.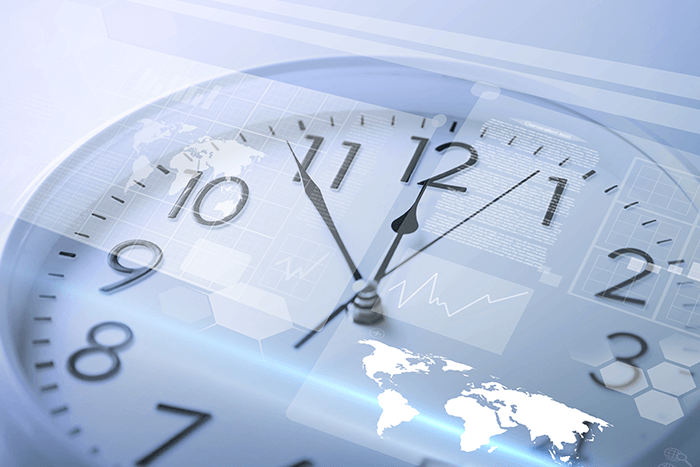 Utilizing this data in campaigns prevents subscribers from receiving irrelevant content. As a result, fewer people unsubscribe. The more relevant and personalized a push campaign is, the better the results.
When is the Best Time to Send Push Notifications?
When it comes to time zone scheduling for push notifications, there is definitely a right time and a wrong time to send the notifications. Users should send push notifications during awake hours only unless it's breaking news.
Once users schedule enough push notifications, they can compare which times perform best. 12pm might be an optimal time for users in California, but 3pm seems to do better for users in New York. Time zone scheduling automatically creates individual campaigns for each time zone. These campaigns are editable, allowing for customized campaigns based on time zone. Switch up some of the verbiage, the scheduled time, or the photo to make it more relevant to the customer and their time zone.
The more personalized your push campaigns are, the better they perform. 90% of consumers found personalized ads to be more appealing than generic.
Time Sensitive Notifications
One of the top reasons time zone scheduling for push notifications is important is because some campaigns might be time-sensitive. There would be nothing worse than sending a push reminder about an upcoming event, only for half of your subscribers to receive it a day late. This problem is due to marketers not taking time zones into consideration first.
You can avoid sending push notifications at the wrong time with time zone scheduling for push notifications. Never send a holiday, event, sale, or announcement push notification at the wrong time again.
How to Schedule Time Zone Push Notifications
Time zone scheduling for push notifications is easy to do with Pushnami. Simply go to your dashboard to create a new campaign. Fill out the campaign credentials with the necessary information. When you're ready to schedule it, choose the date and time. Next, choose the option to send notifications as per subscribers time zone.
This will show you a list of each time zone your push will go to. If you want to customize the campaign for each time zone, click on their individual campaign to edit the details.
Once you finalize the details, click "schedule" and you are ready to go!
Push Campaigns That Benefit From Time Zone Scheduling
Not every campaign is right for time zone scheduling with AI involved. AI machine learning gives users data to create automatic campaigns for their subscribers. AI collects data about each subscriber from their website activity.
Push campaigns have the option to use this data to send automatic content that appeals to the subscriber. The push also determines the best time to send the campaign. Automatic scheduling and content creation is a smart way to retarget subscribers but isn't ideal for certain campaigns.
Time zone scheduling is ideal for campaigns that are time-sensitive. If there is an upcoming sale on products, breaking news, or a holiday, scheduling campaigns with time zones in mind makes much more sense than letting automation take the wheel. Subscribers receive the push notification on the correct day and at the correct time so they never miss out.
For best practice, use time zone scheduling for notifications for all time-sensitive and time-relevant content. This will ensure you get your message across at the right time.
Timing is Everything
Don't fear sending out a push campaign at the wrong time again. Time zone scheduling for push notifications has never been easier with help from Pushnami. We will even give you a designated Push Success Team to help you get the job done. See the difference that time zone scheduling for push notifications can make in your strategy. Sign up for a free trial to see for yourself.