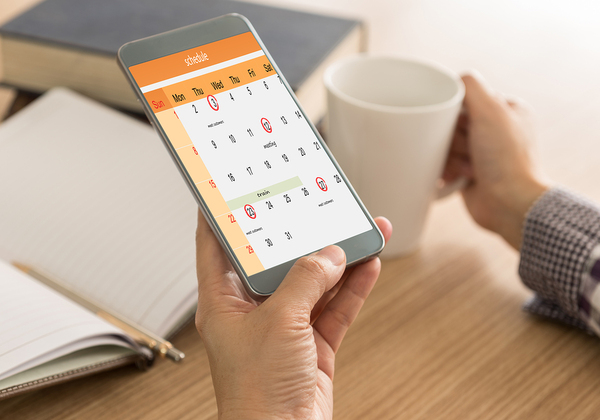 Get on the schedule to make life easier.
As we've gotten busier, and as the demands on our time have risen, we've become more and more dependent on reminders. Our phones ring alarms reminding us about certain chores, our digital calendars are full of notes to stay on top of, and there's always that one sticky note we see at the last second. Reminders are powerful, and they should be part of your push notification strategy.
Remember This
Why reminders? First of all, they're just a simple common courtesy that makes life easier. After all, it does neither your customer nor you any favors if they forget an appointment, miss a payment, or otherwise don't meet their obligations. Customers appreciate a friendly heads-up to square away a problem before it becomes a mess, and the mental well-being you preserve alone makes it handy. Nobody enjoys being stuck waiting in a room or racing to try and not waste someone else's time.
Secondly, reminders help us prioritize and deal with minor issues before they become big problems. If your customer knows there's just no way they can make that appointment, a reminder with a link attached to reschedule or cancel as needed, it allows both sides to refocus and reprioritize on other matters.
Finally, browser-based reminders are an easy tool anybody can use. There's nothing to download, no emails to disappear under a flurry of messages, no scraps of paper that get into the wash. If you've got a browser, you have a reminder.
A push is better than a Post-It.
Reminder Best Practices
Reminders are the epitome of informational push. They should be designed around informing customers and making it easy to check information and, if necessary, reschedule or cancel. Usability tests should be key.
Automate reminders, and give as much control to your customer as possible. Ideally, they can set as many reminders as they want to arrive at any time that makes sense for them. The more flexibility you can offer, the better off your customers will be.
Make any reminder tool you push mobile-optimized. Especially if people are in a hurry and want to just confirm or cancel the meeting, a simple web tool can often be your best friend.
Write several sets of polite, cheerful copy that your reminders can cycle through, if possible. Especially across multiple appointments, customers will appreciate the effort to make things feel a little more personal and engaging.
The first reminder you push should include a link to add the item to personal calendars. It's a useful courtesy, particularly for customers who may need more than one reminder or who haven't had time to update their calendars.
Reminders should have options to confirm the meeting, which will shut off any further reminders, and reschedule or cancel, which should redirect to a web page to reschedule (if needed). Make sure to include the name of the person they'll be meeting with, if possible, and a phone number and email address to reach that person at, both clickable.
Want to see how reminders can make both your customers and your employees more efficient and less stressed out? Sign up for a live demo of Pushnami!