4 free marketing channels you should prioritize right now
By now, you've seen a flood of updates from businesses about their response to the coronavirus — and you've probably had to send some of those out yourself. All the news about the economy and disruptions to businesses make it easy to feel overwhelmed and confused about what marketing actions to take next.
Now, more than ever, marketing represents an unprecedented way to reach people, coordinate community responses, and keep businesses close to their customers during this disruptive time. If your budgets are getting slashed or your marketing plan was thrown into chaos, and you are looking for some quick wins, here are the 4 free marketing channels that you should be re-investing in right now:
Jump to a section:
Email Marketing | Website Push Notifications | Content Marketing | Social Media
1. Email Marketing
According to aggregated data from Hubspot's global customer base, email open rates have increased by 21% since mid-March. One of the key takeaways of the report is that marketing email outreach, open rates, and database growth have all increased since the start of the global COVID-19 epidemic. Additionally, average marketing email volume increased 29% the week of March 16, while open rates increased by 53% the same week.
Your customers are engaging with email now more than ever – and your competitors are sending more of it. Email is probably already one of the most important channels you have. But have you looked at your automated flows or the tone of the emails you planned to send recently?
Now is not the time to send a "we care about you" or a "business continuity" email. Too late for that. Your customers have an expectation that your business will function as usual unless you explicitly tell them it won't. Communicate product or service changes and upcoming deals they need to know about, but avoid sending an email about how you are there to support them (unless it's a genuinely personalized 1×1 communication). For some email inspiration, check out reallygoodemails.com.
We're particularly enamored with this newsletter from Rev.com.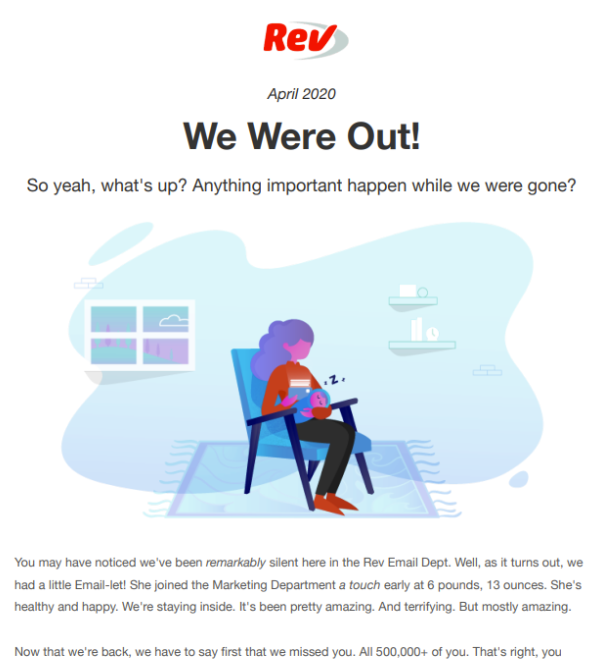 Website Push Notifications
Per research from Neil Patel, industries like travel, construction, and real estate are seeing huge drops in organic search traffic. However, finance, news, and content industries are skyrocketing. Whether you are seeing an up or down in website traffic, the same expectations exist for marketing – capture that audience, get them to convert and, build a great brand impression.
One channel that most marketers have yet to fully utilize is browser-based push notifications. In fact, only 3% of the top 1 million websites currently use them.
These notifications differ from commonly used website conversion options like social proof popups, inline forms, side scroll boxes, or exit-intent popups. Browser-based notifications are a way for you to capture subscribers (like you do for email marketing) with the opt-in controlled by the user's browser. But your website traffic opts in with a single click, no email address required, so it provides a great user experience for them. Studies have shown that web notifications have a 30x conversion rate over email.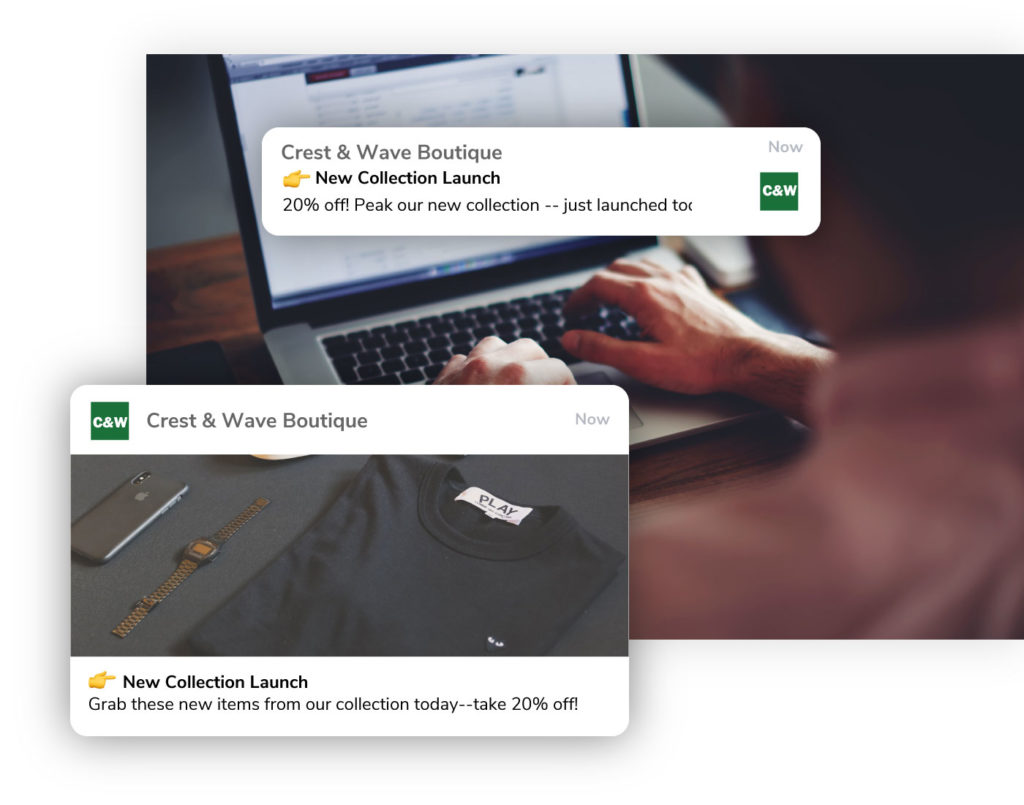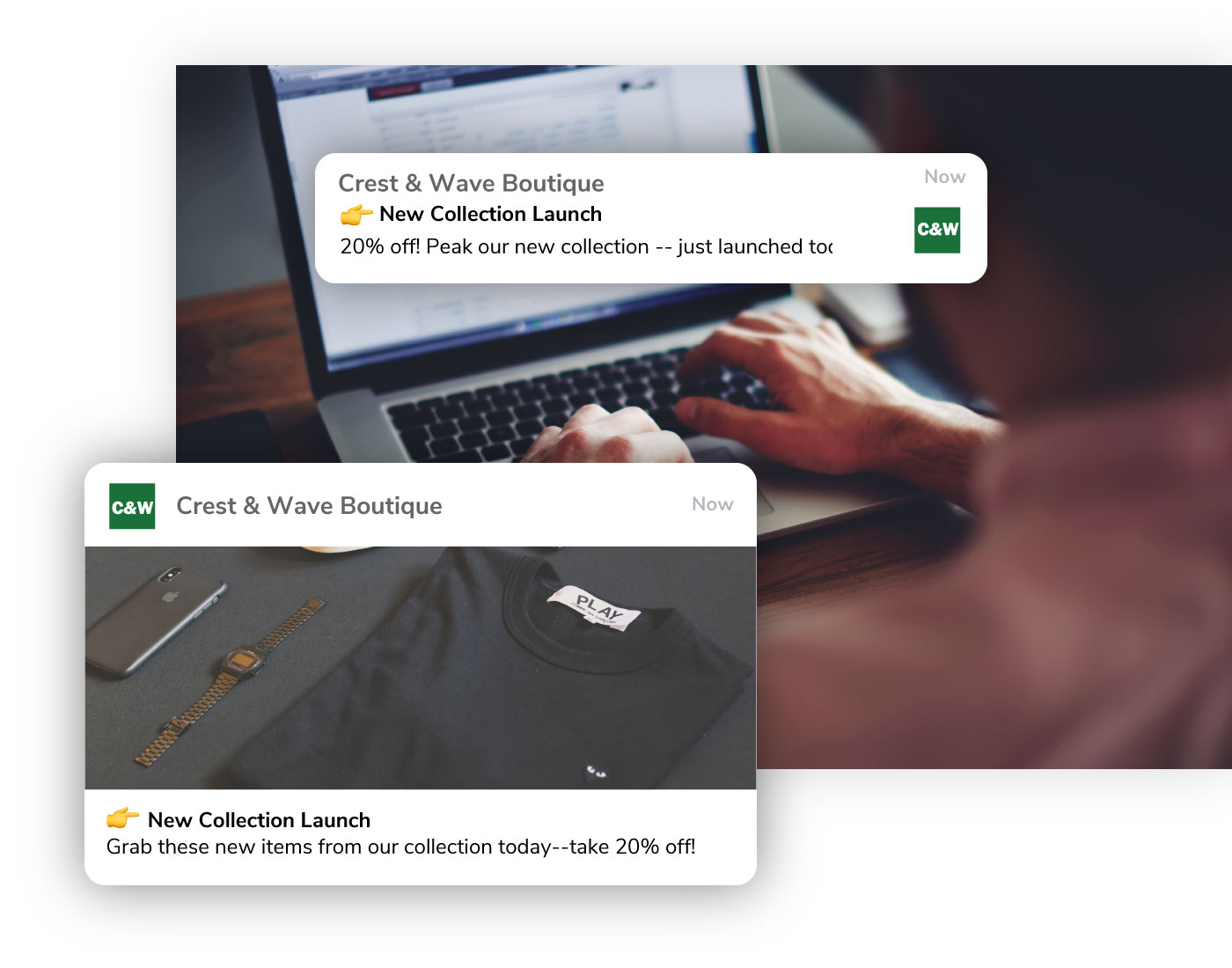 With web push notifications, you can send your message at any time of the day to any user, even when they are on other websites. Best of all, web push notifications appear similar to native mobile push on many smartphones even if you don't have a mobile app. Great uses for them include promo offers, status updates about possible service impact, company announcements, and new blog content.
To help all businesses during these times of uncertainty, you can get six months of free push notifications. You can start capturing subscribers and sending campaigns in less than one hour.
Content Marketing
In the ranking of free and low-cost marketing initiatives, content marketing still reigns supreme. While plenty of content marketing strategies might not be exactly free (it may cost some money to create a new blog, for example), they tend to be one-time or low expenses that you can then take advantage of for an extended period in the future.
The world of content marketing is vast and ever-changing, and your strategy is going to be very much dependent on how your target audience engages with content in general, so we'll touch on a few of the recent can't miss strategies here for now:
Focus on education, not promotions. Focus on creating educational content like training programs, webinars, and engaging self-paced learning modules. Nurture the long-term relationship by providing value now, not selling to them, or asking for anything in return.
Repurpose old content into new assets. You've probably published some content that needs a refresh. Now is that time! Look at old blog posts and try to repurpose them into bundled ebooks or educational modules that teach your audience something new.
If you have a regular webinar calendar with multiple pre-recorded assets, try spinning the audio into a podcast series. Dave Gerhardt from Privy posted a quick how-to on Linkedin. The total investment is less than $500 and is a great approach you can use to start a podcast.
Social Media
The most engaging social media content you can post right now is authentic, human content. Millions of workers are getting laid off across the country. Budgets are getting slashed. Businesses are cutting back on expenses. This "new normal" is the time to start showing the human side to your brand. Focus on authentic posts like your employees' work from home setups or an article on a non-profit helping your local community.
We recently posted our PushPups on LinkedIn and got a 28% increase in engagement compared to our regular content.
Or maybe take some inspiration from frozen beef brand Steak-umm and post insightful commentary on contemporary American culture and the fight against misinformation. Per
PRweek
, this thread by Steak-umm has been retweeted more than 60K times. One impactful tweet thread can equal hundreds of thousands of free brand impressions.
friendly reminder in times of uncertainty and misinformation: anecdotes are not data. (good) data is carefully measured and collected information based on a range of subject-dependent factors, including, but not limited to, controlled variables, meta-analysis, and randomization

— Steak-umm (@steak_umm) April 7, 2020
When we announced our 6-month free offer for any business, we did the traditional press release, blog post & email campaign. But we also had our CEO, Emerson Smith, film a quick video from our empty office and post it on his LinkedIn page. This video now has more than 4 thousand views and led to increased social conversations from people wanting to help us share this message.
The more you publish, the more you learn. And the more you learn, the better your content can be. You don't need to be the best writer or have the wittiest tone on social media. But you do need to be the best at understanding your audience and the content they want — and right now, that does not come from publishing what you used to publish two months ago.
Now is the time to double-down on your owned channels and reevaluate all of your existing content and communications. New channels like free web push notifications can help you capture your audience and convert more from your website, and channels like email and content can help you connect with your audience during this time when they are looking for more education and engagement.